Winfred Rembert (b. 1945)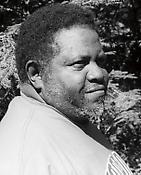 A native of Cuthbert, Georgia, Winfred Rembert spent his childhood as a fieldworker in the pre-civil rights South. Brought up by his great-aunt ("Mama"), Rembert paints stories that look back to his youth in the days of segregation. Despite the often grim working conditions he encountered (not to mention a near-lynching and years spent on a prison chain gang), Rembert's works focus on the joyous aspects of black life in the 1950s South — the strong family and community bonds, the cultural vibrancy, and the many colorful characters that lifted the spirits of those who had little choice but to labor in the region's cotton and peanut fields.

Marked by tactile surfaces, saturated colors, and lively, rhythmic patterning, Rembert's works are painted on leather sheets that he hand tools and then dyes. These energetic compositions — with their engaging narratives of life in the rural South — have brought Rembert comparisons to noted African-American artists Hale Woodruff, Jacob Lawrence, Horace Pippin, and Romare Bearden. Rembert, who is self-taught, lives and works in New Haven, Connecticut. His paintings are represented in a number of important public and private collections, and were the subject of a major exhibition at the Yale University Art Gallery in 2000.