John Marin (1870-1953)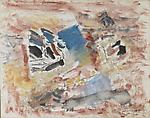 A pioneer of early modernism, Marin worked as an architect before deciding to pursue a career as an artist. He spent time in Europe, but after returning to America in 1910, he devoted his energies to distinctly American subject matter, particularly the energy and vitality of New York, and the rugged beauty of Maine's coast. A key member of the circle of artists associated with legendary dealer Alfred Stieglitz, Marin participated in the groundbreaking 1913 Armory show, and was given solo exhibitions at Stieglitz's '291' gallery and its successors almost annually.

Though he created etchings and sometimes painted in oil, Marin worked primarily in watercolor. He earned wide critical praise as well as commercial success, and elevated the importance of watercolor as a means of artistic expression. While early in his career he worked in a delicate and somewhat impressionistic tone, he eventually developed a bold and fluid style, depicting the elemental forces of nature and the dynamism of the modern city in a signature blend of realism and abstraction. In addition to New York City and Maine, Marin painted in his home state of New Jersey as well as Pennsylvania, Delaware, New York state, various parts of New England, and New Mexico, where he spent the summer of 1929.