Everett Shinn (1876-1953)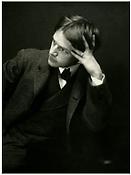 Closely linked with urban realism and the Ashcan school, Shinn is also the preeminent American painter of theatrical subjects. He began his career (like several other members of The Eight) as a staff illustrator for the Philadelphia Press while attending night classes at the Pennsylvania Academy of the Fine Arts before moving to New York in 1897. Shinn's lifelong interest in the theatre became an important source of subject matter after a 1901 trip to Paris, where he viewed theatre scenes by Manet and Degas. His interest in the performing arts was not limited strictly to painting, however, as he also wrote and produced plays that were performed in a small theatre he built in his New York home. He later worked as an art director for MGM and others in the formative days of the Hollywood studio era.

Shinn's paintings capture all sorts of entertainers in action -- actors and actresses, musicians, dancers, vaudeville performers and acrobats among them -- occasionally from unusual vantage points. These works commemorate the thrill of the theatrical spectacle in Shinn's rapid, sketch-like technique, often combined with dazzling light effects. In addition to his paintings, Shinn also produced murals, worked as an interior designer, and continued to produce illustrations until the end of his life.